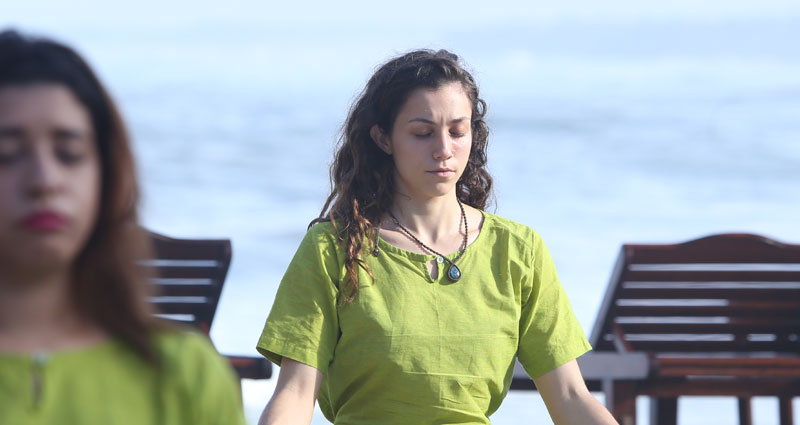 13
Jun
Yoga Ambassadors Tour 2018 (14 – 22 June)
10:00 AM - 05:00 PM
Kerala
Yoga Ambassador Tour is a specialised familiarisation trip for established & practising yoga professionals from around the world to have a first-hand experience of Kerala, the southern state of India, the country proud to be known as the birth place of Yoga. This 10 day educational tour of Kerala as part of Yoga Ambassador Tour will not only showcase the varied product range of Kerala but also gives an opportunity to the delegates to engage in various yoga based activities. The tour will be coming to an end on 21st JUN'18 which eventually is the International Yoga Day, and the delegates would also be getting a chance to participate in mass yoga drill. The tentative programme schedule as under.
Day01 / Jun13
"Namaste"…Atithi Devo Bhava (The guest is equivalent to God)

Meet and Assist you at Trivandrum International Airport on arrival and proceed to your pre booked Hotel /Resort.

Trivandrum is the Capital City of Kerala (God's Own Country), Referred by Mahatma Gandhi as the "Evergreen City of India". The City is ranked among the best cities to live in India. Warm Welcome you at your Hotel/Resort Check-in and Overnight stay.
Day02 /Jun14
0700:Breakfast at respective hotels

0815: Pickup from hotel to Leela Convention Center

0830: Registration

0930: Grand Inaugural of the "Yoga Ambassador tour" first of its kind in the World. Lighting the Lamp by Shri Shripad Yesso Naik, Minister of State (IC), Ministry of Ayush, Govt. Of India.

1030: Technical Session I – Philosophical Foundations of Yoga

Chairperson: Prof. V. Purandara Reddy,Dean, Faculty of Darsanas, Rashtriya Sanskrit Vidyapeeth, Tirupati

Co-Chairman: Dr. Krishna Sharma, Professor, Department of Yoga, Mangalore University

Speakers:

Dr. B.R. Sharma

Kaivalyadhama, Lonavla

Yoga in ancient scriptures
Yogi Shivan

Teacher, Healer, Yoga Exponent, INDIMASY (yoga Village) Trivandrum

Hatha Yoga Parampara
Dr. Alwar,

Professor of Nyaya, Maharaja Sanskrit College, Mysore

Yoga in Darshanas

1300: Technical Session I Ends – Lunch Break

 

1400: Technical Session II – Science Behind Yoga

Chairperson: Dr. M.V. Bhole, Former Jt. Director (Research), Kaivalyadhama.

Co-Chairman: Yogi Jayadevan, Universal Yoga Consciousness, Ollur, Kerala
Speakers:

| | |
| --- | --- |
| Dr. Naveen K.V., Director, FAITHS, Bengaluru. | Psycho-neuro-immunology and Yoga |
| Dr Meena Ramanathan, Deputy Director, CYTER, SBV, Pondicherry | Yoga Therapy: Its principles & practices |
| Dr. Shivarama Varambally, Professor of Psychiatry, NIMHANS, Bengaluru. | Yoga for Mental Health – A neuroscientific perspective |

1700: Technical Session II ends

1800: Cultural Programme

1900: Dinner

2100: Wishing you all "Subharathri" (Goodnight)
Day03 /Jun15
0545: Wakeup Call

0615: Assemble at Hotel Lobby for transfer to Leela Convention Centre
0630: Reach Leela Convention Centre & prepare yourself for Yoga

0700: Common Yoga Protocol

0800: Back to respective hotels& Breakfast

0900: Assemble at Lobby

0915: Proceed to Sivananda Ashram for an excursion tour and interactive session on yoga.

1200: Lunch Break

1300: Proceed to Kanyakumari.

1530: Visit Vivekananda Rock by specially arranged Boat, Visit Meditation Hall.

1600: Proceed to Thiruvalluvar Statue (or the Valluvar Statue, is a 133-feet tall stone sculpture of the Tamil poet and philosopher Tiruvalluvar, author of the Tirukkural, an ancient Tamil work on secular ethics and morality)by boat.

1630: Visit Vivekananda Ashram &Exhibition Centre

1730: Return back to Kovalam

2030: Arrive at Uday Samudra Hotel, Kovalam for Dinner
2200: Transfer to respective hotels

2230: Shubharathri
Day04 /Jun16
0545: Wakeup Call

0615: Assemble at Hotel Lobby for transfer to Uday Samudra Resort
0630: Reach Uday Samudra & prepare yourself for Yoga

0700: Common Yoga Protocol

0800: Back to respective hotels& Breakfast

0845: Bags Out

0900: Check out & drive to Amritapuri Ashram, home of Mata Amritanandamayi Amma

1100: Reach Ashram for a short visit & see around

1200: Depart to Alappuzha to board Houseboat for an unforgettable trip through the canals of Kerala Backwaters towards Kumarakom
1400: Board Houseboat & Lunch (Sadhya) will be served on board.
Sadhya: Captivating taste buds. Kerala has always had its glory of treating its people with irresistible delicacies. Among the many mouth-watering foods that it offers, Sadhya stands high on top with pride due to its magnificence and divinity.

1700: Reach Lake Song Resort, Kumarakom

1800: Cultural Programs

1900: Dinner

2100: Transfer to respective hotel & check in

2130: Shubharathri
Day05/ Jun17
0545: Wakeup Call

0615: Assemble at Hotel Lobby for transfer to Zuri Resort
0630: Reach Zuri& prepare yourself for Yoga

0700: Common Yoga Protocol

0800: Back to respective hotels& Breakfast

0845: Bags Out

0900: Check out and proceed to Thekkady by Coach.

(Thekkady– a land full of spice plantations and South India's most popular wildlife sanctuary called PeriyarWildlife Sanctuary. Spread out over an area of 777 sq km, the sanctuary boasts of a splendid artificial lake formed by the Mullaperiyar dam across the Periyar river, which adds to the charm of the park)
1300: Lunch at Forest Canopy Resort, Thekkady
1430: Check in at respective hotels

1730: Assemble at the lobby & transfer to the venue of the cultural programme
and dinner hosted by Thekkady Destination Promotion Council (TDPC).
2100: Return to pre booked Hotels
2130: Shubharathrii
Day06/ Jun18
0515: Wakeup Call

0600: Assemble at Hotel Lobby for transfer to AranyaNivas Resort
0615: Board Boat to Lake Palace Resort, Thekkady
0630: Reach Lake Palace& prepare yourself for Yoga

0700: Common Yoga Protocol

0800: Breakfast

0845: Boating & transfer back to AranyaNivas Resort
0930: Transfer to respective hotels
1015: Bags out
1030: Check out & proceed to Munnar
1130: Stop at Periyar Spices Plantation for a familiarization walk.
1230: Proceed to Munnar
1300: Stop at Carmelia Haven Resort for Lunch
1430: Depart to Munnar

1830: Reach Munnar and Check in at Hotel (Munnar is situated at around 1,600 metres (5,200 ft) above mean sea level, in the Western Ghats mountain range. Munnar is called "Kashmir of South India" Munnar was the summer capital of the British in southern India. Munnar was developed to cultivate tea plants by British although it was first discovered by Scottish planters. Munnar is located at the confluence of three mountain streams Mudra puzha, Nallathanni and Kundala.)

2030: Dinner at respective Hotels

2130: Shubharathri
Day07/ Jun19
0600: Wakeup call
0630: Assemble at Yoga area & prepare yourself0700: Common Yoga Protocolat respective hotels0800: Breakfast0845: Bags Out0900: Check Out from Hotel

1000: Proceed to Visit Muniyara Dolmens and Meditation (The Muniyara Dolmensare magnificent prehistoric dolmens, situated in Chinnakanal. Belongs to the Neolithic Age, these aboveground burial chambers are built with large stone slabs and are called 'megaliths.' The historians keep special interest in these granite slabs as they are more than thousand years old. A lot of anthropologists and archaeologists from all over the world visit this fascinating destination to explore the remnants of Dolmenoid cists belonging to the Megalithic age.

1130: Drive to Munnar City, visit Lock Heart Tea Estate and Srishti NGO.

1330: Proceed for Lunchby Showcase Munnar at Eastend Premium Hotel, Munnar

1500: Check in at Respective hotels

1800: Assemble at Hotel Lobby for transfer to Blanket Resort & Spa for Cultural Program &Dinner by Munnar Destination Makers (MDM)

2100: Transfer back to respective hotels

2130: Shubharathri
Day08/ Jun20
0500: Wakeup Call
0545: Bags out
0600: Check out & transfer to Yoga Location
0630: Arrive at Yoga Location (Panoramic Gateway Helipad)& prepare yourself for Yoga0700: Common Yoga Protocol0800: Transfer to Munnar Tea Country Resort forBreakfast0930:Depart to Ernakulam (Kochi)1330: Lunch at BTH Sarovar

1430: Proceed to Check in to your Pre bookedHotels (Kochi also known as Cochin, Called the Queen of the Arabian Sea, Kochi was an important spice trading centre on the west coast of India from the 14th century onward, and maintained a trade network with Arab merchants from the pre-Islamic era. Occupied by the Portuguese in 1503, Kochi was the first of the European colonies in colonial India. It remained the main seat of Portuguese India until 1530. Cochin is a major port city on the south-west coast of India bordering the Laccadive Sea. It is part of the district of Ernakulum in the state of Kerala and is often referred to as Ernakulum.)

1630: Assemble at Hotel lobby. Depart for Sunset Cruise

1700: Sunset cruise of the Kochi backwaters.
1830: Drop back at Taj Malabar Hotel for Cultural evening & Dinner

2100: Transfer back to respective hotels

2130: Shubharathri
Day09/ Jun21

0530: Wakeup Call

0600: Transfer to Marriott Hotel, Kochi

0630: Arrive & prepare yourself for Yoga

0700: Mass Drill Yoga – Common Yoga Protocol (World Yoga Day)

0830: Transfer back to hotels

0930: Breakfast

1200: Lunch

1300: Assemble at Lobby & drive to Fort Kochi

1330: Visit Mattancherry Dutch Palace, Jewish Synagogue and Fort Cochin

1600: Transfer to Marriot Hotel
1700 – 1900: Networking with Kerala Travel Trade
1900 – 2000: Cultural Program
2000 – 2200: Dinner

2200: Transfer back to respective hotels

2300: Shubharathri
Day10/ Jun22
0730: Breakfast

0830: Say Time to "Shubhayathra"(Goodbye), Time to Catch your Destination Flight.

"Svastiprajabhyamparipalayanthamnyayeanamargenamahimmaheesah
Gobrahmanebhyashubamsthunityamlokahsamasthasukhinobhavanthu."

("May all beings everywhere be free,
May the kings rule the earth along the right path;
May all beings be happy and free from suffering.
May all the beings in all the worlds become happy;
Peace, peace, and peace be everywhere!")